The accident happened around 8:30 a.m. State police told WDSU that the tanker is leaking fuel and the bridge will be closed for an extended period of time. According to New Orleans EMS, two people were taken to the trauma center. Drivers should take U.S. 90 or the Causeway Bridge until further notice.
The developing story can be found here: https://www.wdsu.com/article/twin-span-closed-eastbound/28938299?src=app
Louisiana Truck Accident Lawyer
Every year, over 2,300 people are injured in Louisiana 18-wheeler accidents. Even more tragic is that over 100 lives are lost annually in these crashes. In fact, according to the National Highway Safety Administration, 75 percent of people who died in tractor trailer accidents in 2007 were riding in passenger vehicles. Semi-trucks and 18 wheelers are responsible for 1 in every 8 traffic deaths. These statistics show the devastation that an 18 wheeler can leave behind after an accident. The victims of these horrific collisions are left each year mangled and devastated due to no fault of their own. It is critical to have an experienced attorney in this field to help you recover the damages you are entitled to.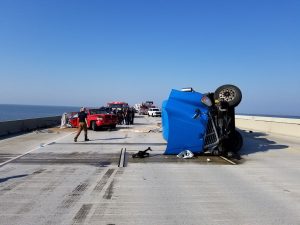 18-Wheeler Accident Lawyer in Louisiana

Choosing the right 18-wheeler accident lawyer in Louisiana is critical because of stringent trucking industry regulations. The Federal Motor Carrier Safety Administration (FMCSA) has hundreds of regulations in place, many of them intended to protect motorists. However, unless your attorney is familiar with these regulations, it is nearly impossible for him or her to successfully represent you in an 18-wheeler case. Also, trucking companies often employ lawyers solely to protect them in the case of an accident.
We Know What it Takes to Win
The legal professionals at the Cardone Law Firm will make a full investigation into your case, including:
•    Truck driver log books
•    Electronic log systems
•    Cell phone records
•    18-Wheeler Accident reports
•    Crash Data Retrieval Information
•    Statements from witnesses
•    All the conditions that lead to the accident
We know how to assess your case and will support you through this emotional time. Mr. Cardone has seen firsthand how these truck accidents and 18-wheeler car accidents leave their victims in horrible positions. That is why he has devoted his career fighting for the compensation his clients are owed.
Do Not Settle on Your Settlement. Phone Cardone.

For a free consultation to discuss your legal needs, contact The Cardone Law Firm today. The legal professionals here understand what it takes to recover damages from truck accidents in Louisiana. Phone Cardone at 504-522-3333 for a free in person consultation. He is direct, insightful, proactive, and passionate about his client's cases.