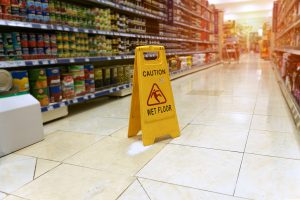 Slip-and-fall and trip-and-fall accidents in Louisiana are, in some ways, somewhat similar to those types of cases in other states. In order to obtain compensation for your injuries, you need proof that the person or entity you've sued either caused the problem, knew about the problem (and did not act), or reasonably should have known about the problem (and did not act). Getting the evidence you need to succeed in your case is vitally important because a slip-and-fall or trip-and-fall injury can be serious and can have life-altering effects on you. To make sure that you are amassing the proof you need, be sure you have retained the services of a knowledgeable New Orleans premises liability attorney.
One nearby slip-and-fall case that demonstrates what it takes, in terms of proof, was the lawsuit filed by D.F. D.F. was a shopper in a supermarket in Mandeville when she slipped in Aisle 12 on a clear liquid substance, suffering injuries as a result. When you go to a store, you probably presume that the store you've entered is safe for shoppers in all relevant areas. Unfortunately, that isn't always the case.
In Louisiana, the law says that you must prove one of three things in order to succeed in your slip-and-fall accident litigation against a merchant. You have to show that the store caused the hazard, that the store had "actual notice" that the hazard existed, or else that the store had "constructive notice" of the hazard. You can meet this last option ("constructive notice") by showing that the store didn't use sufficient care in inspecting the premises, and, if it had used reasonable care, it would have known about the problem.