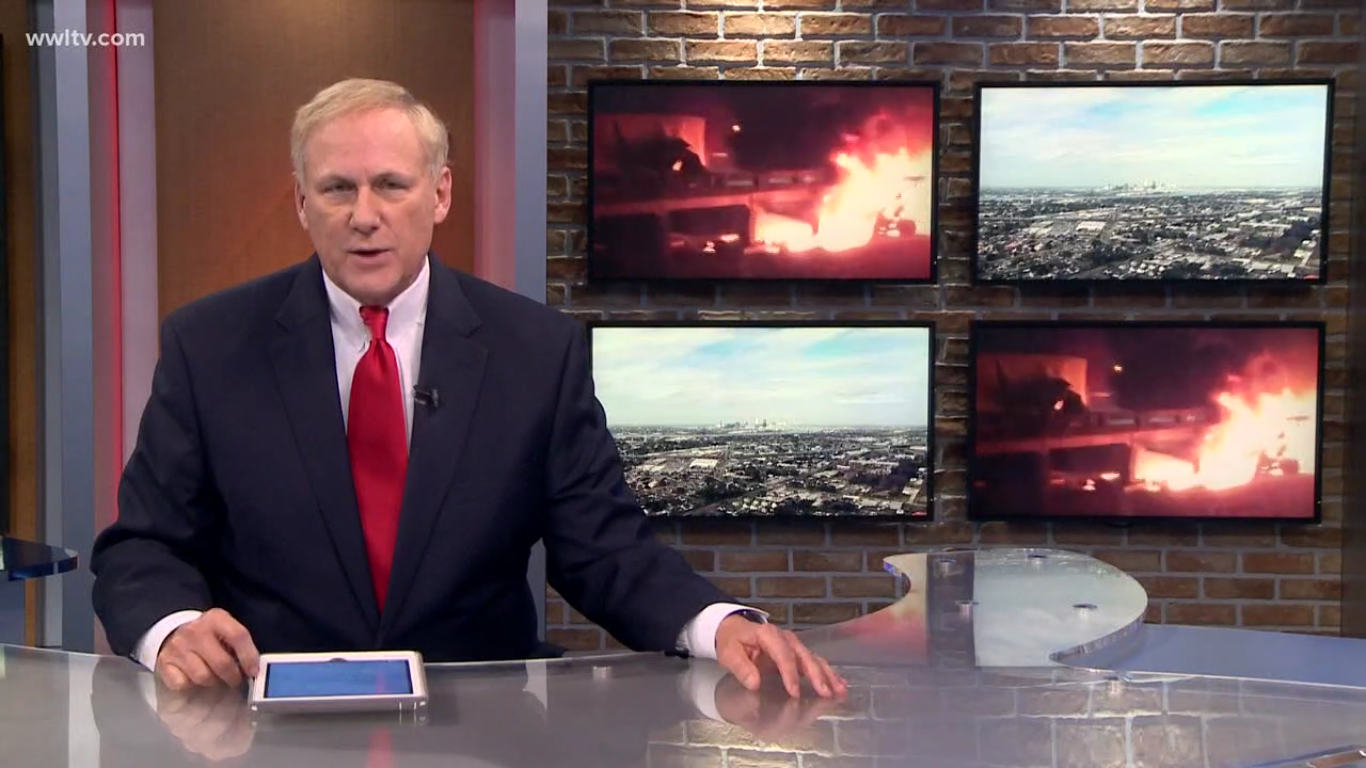 Just last month we reported on a fiery hit-and-run accident that took place in Jefferson Parish on I-10 near the Veterans Boulevard overpass. The driver of a Mercury Grand Marquis sideswiped a semi-truck, causing it to lose control which then led to one of its trailers flipping over the edge of the elevated expressway and catching fire.
The driver of the Mercury – 36-year-old Brandon Eserman of Marrero – then fled the scene of the accident, leaving the car parked in Metairie.
According to Louisiana State Police, Eserman turned himself in on Friday, February 1st, and was booked on charges that include suspended driver's license, no insurance, fraudulent inspection certificate, hit-and-run, reckless operation of a motor vehicle, and negligent injuring.
The resulting damage from the accident closed the left lane of I-10 east for 11 days while workers repaired the bridge where the accident took place.
About Louisiana Car Insurance Laws
In the state of Louisiana, drivers are required by law to have minimum liability coverage on any vehicle they own. Liability coverage is meant to pay for any personal injury or property damages should an individual become involved in an accident.
The minimum amount of coverage that is legally required stands at:
$15,000 for bodily injury or death to one person
$30,000 for bodily injury or death to two or more people in a single accident
$25,000 for damage to someone else's vehicle or property
Individuals have the option to purchase additional coverage for more protection.
Drivers without car insurance or who do not have coverage to meet minimum requirements may be subject to various fines and a potential license suspension.
What Drivers Need to Know About Uninsured/Underinsured Motorist (UM/UIM) Coverage
The unfortunate reality is that seeking out recovery from a driver without insurance can be challenging – and nearly impossible to obtain.
However, Louisiana drivers still have hope if they have purchased Uninsured/Underinsured Motorist (UM/UIM) coverage. This ancillary policy feature can pay for a number of damages should you be involved in an accident with another driver who has no insurance or whose insurance limits do not cover all your damages.
Damages covered by UM/UIM coverage can include:
Economic damages such as:

Past and future medical expenses
Loss of wages
Loss of earning capacity
Loss of irreplaceable items
Property damage or loss (if you have purchased UM that offers this)

Non-economic damages such as:

Pain and suffering
Mental anguish and emotional trauma
Reduced quality of life
Disfigurement
Loss of enjoyment
Loss of companionship
There are a number of reasons to purchase UM/UIM coverage including:
Offers protection against hit-and-run collisions.
Louisiana has a high rate of uninsured drivers; UM coverage helps to protect you against these negligent parties.
Protecting your interests when the minimum amount of insurance does not cover all accident-related expenses.
The damages a pedestrian may suffer in an auto-pedestrian accident are also covered.
UM/UIM is relatively inexpensive, especially when considering how beneficial it can be should you become involved in an accident with an irresponsible driver. Premiums will vary depending on your insurer and a number of other factors, but generally speaking, most UM/UIM coverages will not add more than couple extra dollars per month to your premium.
Making a UM/UIM Claim
In the state of Louisiana, auto insurance companies must offer customers the option to purchase uninsured motorist coverage. If you file a claim using your UM coverage but are rejected, it is up to your insurance provider to prove that you "validly rejected" the coverage. If your insurance company cannot prove you rejected this coverage, then they must provide benefits in the same amounts of limits to you as your liability coverage.
At the Cardone Law Firm, when an insurance company says our client didn't purchase uninsured motorist coverage, we make the insurance company submit the documents to prove it was validly rejected. We have even created new law on this issue, successfully recovering for clients who were not offered uninsured motorist coverage by their insurance companies.
We have quite a  few blogs about UM coverage and we highly recommend you read through them to become better informed about what your rights and options are.
Contact the Cardone Law Firm
today at 504-522-3333 if you would like to know whether you have a valid UM claim or will need to pursue other avenues to obtain damages caused by another negligent driver.
Source: WWL-TV