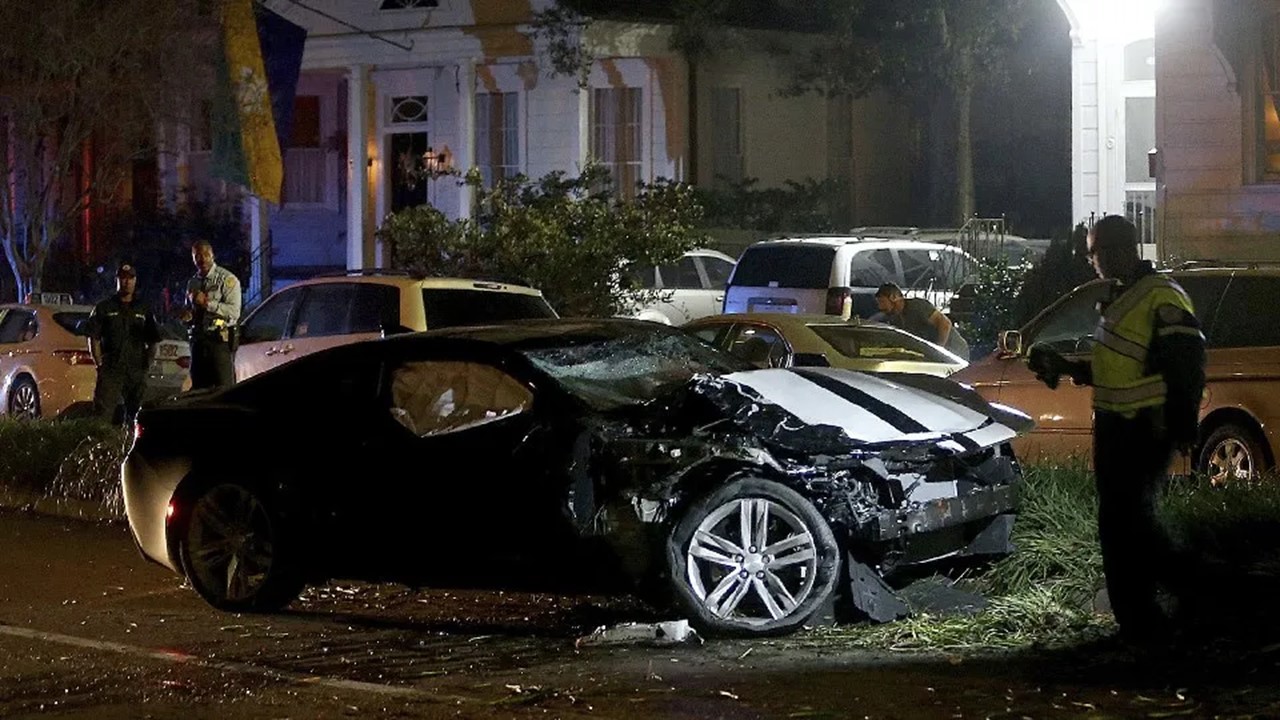 On the night of Saturday, March 2nd, two individuals were killed and seven others were injured after an alleged drunk driver crashed into them.
Details About the Tragedy
At around 9 p.m. on Saturday night, a 32-year-old man, who is the son of an NOPD officer, caused a deadly crash in the 3200 block of Esplanade Avenue in Bayou St. John.
The crash took place over several blocks as the driver sideswiped several vehicles before swerving into the bike lane where he drove through a crowd of bicyclists and pedestrians. Witnesses stopped the driver from fleeing the scene.
Sadly, two victims – both in their 30s – lost their lives in the accident. Seven other individuals were taken to local hospitals and three are reported to be in critical condition.
Bystanders rushed to offer assistance to the victims while paramedics made their way to the scene.
Authorities were awaiting blood alcohol test results but believe the suspect had been impaired at the time of the accident. The police report quotes the individual as saying, "I have a drinking problem."
On Sunday, March 3rd, the driver appeared before the court where his bond was set at $510,000. The individual is being charged with vehicular homicide, seven counts of vehicular negligent injury, hit-and-run, and reckless operation.
Louisiana Statistics on Alcohol-Impaired Crashes
Unfortunately, the state of Louisiana has had issues in recent years with drunk drivers and alcohol-impaired crashes. Some of the startling data includes:
Data from the National Highway Traffic Safety Administration shows that Louisiana frequently ranks in the top 10 states for fatal car crashes caused by drunk drivers.  
Between the period of 2003-2012, 3,046 individuals were killed in alcohol-related accidents in Louisiana.
In 2014, out of 737 driving fatalities in Louisiana, 300 occurred as a result of alcohol-impaired crashes.
Louisiana Bicycle Accident Statistics
Statistics on bicycle accidents in Louisiana show us that:
In 2015, the Centers for Disease Control and Prevention (CDC) listed Louisiana as having the 3rd highest rate of auto-bicyclists accident fatalities in the U.S.
Most bicycle accidents occur between the hours of 6 p.m. and 9 p.m/a>.
Louisiana State Legislature has previously attempted to pass a bill for "Vulnerable Road Users," including motorcyclists and bike riders, but fell seven votes short of minimum approval.
Louisiana state law mandates that all drivers give bicyclists at least 3 feet of space.
The reality is that cyclists and drivers both have the responsibility to watch out for one another. Understandably, motorists need to be even more cautious as one mistake on their end can lead to a serious accident.
Louisiana Blood Alcohol Concentration Limits
According to the Louisiana DMV:
Standard Blood Alcohol Concentration (BAC): The BAC limit for drivers in Lousiana is 0.08 percent.
Minor's Blood Alcohol Concentration (BAC): For minors behind the wheel, the BAC limit is 0.02 percent in Louisiana. 21 years is the legal drinking age.
Commercial Driving Blood Alcohol Concentration (BAC): In Louisana, commercial truck drivers cannot have a BAC that exceeds 0.04 percent.
The Cost of Drunk Driving in Louisiana
In the state of Louisiana, drunk driving can result in the following charges:
First Offense of DWI/DUI: The individual can face 2 days to 6 months in jail and can get their license suspended for 90 days. The individual may pay up to $1,000 in penalties and fines with the possible installment of an Ignition Interlock Device in their vehicle.
Second Offense DWI/ DUI: If a driver is caught again for the same crime, they face 30 days to 6 months in jail with a license suspension of up to one year. Individuals may pay up to $1,000 in penalties and fines with the possible installment of an Ignition Interlock Device in their vehicle.
Third Offense DWI/ DUI: Driver can face 45 days to 5 years in jail, with $2,000 in fines and penalties. Results in suspension of license for 2 years with permission to drive again only after the installation of an Ignition Interlock Device.
Fourth offense DWI/ DUI: Individual faces 75 days to 30 years in jail, with fines and penalties of $5,000. Also results in a 2-year license suspension with permission to drive again only after the installation of an Ignition Interlock Device.
Penalties are subject to change upon several conditions including if other criminal charges are filed.
You are not alone. During your time of need, trust in the Cardone Law Firm to help you recover from your pain and suffering.
As a cyclist or pedestrian, you are vulnerable to serious injuries in the event that you are hit by a vehicle. Our trustworthy Louisiana personal injury attorneys can help get you the compensation you deserve to begin the healing process.
In the event of the death of a loved one, a wrongful death lawsuit may be required to help you seek justice.
To take the steps towards recovering from a cyclist or pedestrian-auto accident, seek aid from the trustworthy and compassionate Louisiana car accident attorneys of Cardone Law Firm now by calling 504-522-3333.
Source: WDSU NEWS 
Image source : www.kake.com