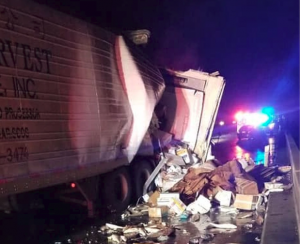 On Friday, April 12, I-10 near New Orleans was shut down for several hours due to a multi-vehicle crash.
Crash Details
The crash occurred over the Bonnet Carre Spillway at milepost 214 on Interstate 10 around 4 a.m. on Friday. Several vehicles were involved in the accident including a tractor-trailer carrying 40,000 pounds of frozen fish, which evidently flipped over and spilled its contents onto the highway.  
According to state police, injuries were reported but authorities were unsure how serious the injuries were.
There was no word on the cause of the crash but by 9:15 a.m. the eastbound of I-10 had reopened to traffic once again.
Truck Driver Limitations
According to the U.S. Department Of Transportation Federal Motor Carrier Safety Administration, truck drivers currently have an 11-hour time limit to be behind the wheel. If drivers fail to meet this requirement, the risk of fatigue or exhaustion can lead to serious consequences.
Cargo Securement
As per the FMCSA Driver's Handbook, all cargo must be secured in place. Some allowable restraints include chains, wires, synthetic ropes, steel strappings, clamps and latches.
If the cargo is improperly secured then multiple issues can occur, including:
Loss of load

Damage to the cargo

Damage to other vehicles on the road

Serious accidents

Issuance of citations/fines to driver/carrier

The vehicle being placed out-of-service

Loss of life
Tips for Drive Near Tractor-Trailers
1. Stay out of the driver's blind spot: Large commercial trucks and vehicles have huge blind spots. Truck drivers cannot easily see passenger vehicles in these locations, so to stay visible, slow down behind the truck or move ahead, but do take precautions while doing so.
2. Do NOT travel too close: Drivers of passenger vehicles should not drive closely to large trucks or cut off these types of vehicles.
3. Keep your distance: Tailgating a truck can be a dangerous move. If the 18-wheeler stops suddenly, your vehicle could slide under the truck or get pushed off to the side in the event of a collision.
4. Provide plenty of room: Commercial trucks need plenty of space to turn, especially on right-hand turns. Do NOT attempt to think you can squeeze by as this can easily result in a serious collision.
5. Think safety: Seat belts truly save lives. Use your seatbelt at all times when behind the wheel.      
6. Avoid driving distractions: Using your cell phone – whether talking or texting – can be dangerous and lead to a crash.
7. Rest: If you're driving for long periods of time, get off the road and take a break in a safe, secure location.
If you have been in an accident with a semi-truck, contact the trustworthy team of
Cardone Law Firm
at 504-522-3333. We are here to serve you during your time of need.  
Source: NOLA.com