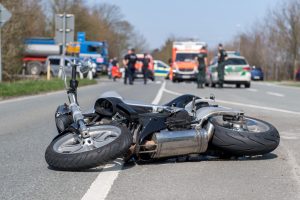 Sometimes, "bad facts" in your accident case may seem to be highly unfavorable. Perhaps the police determined that you were speeding to a substantial degree and that you were not properly attentive to the conditions on the road. In that situation, you are clearly at fault for the accident and cannot recover compensation for the harm you suffered, right? Not necessarily! There may still be options available to you. Before simply giving up on your case, always consult a knowledgeable New Orleans motorcycle accident attorney about your case to learn which options may exist for you.
A lawsuit undertaken by a man named Trae was an example of achieving success even in the face of "bad" facts. The case arose from a vehicle accident in St. Landry Parish. Trae was driving his motorcycle on Highway 29 when Steven turned his Ford Mustang left, which brought him across Trae's lane of travel. Trae began to brake abruptly but ultimately decided to "lay down" his bike on its side to avoid hitting the car. Trae's evasive action allowed him to miss (or nearly) miss the Mustang, but he suffered neck and back injuries, as well as road burn harm to his hands, arms, and legs, as a result of putting the motorcycle down on the pavement.
The police report of the accident concluded that Trae was speeding (at least 65 mph in a 45 mph zone) and was not properly attentive in the moments leading up to the accident. The police cited Trae for speeding. The report did not find fault with Steven, nor was he cited by the police.
Although these facts might make things look bad for Trae, he sued Steven, Steven's auto insurer, and Trae's underinsured motorist coverage auto insurer anyway. Steven's insurer agreed to a settlement in the case, paying Trae $25,000 (the policy limit), in exchange for Trae's dropping Steven and it from the lawsuit.
Trae proceeded onward against his insurance company. His case alleged that his insurer's denial of his claim and refusal to pay consisted of bad faith in violation of Louisiana law. The insurance company argued that, based on the allegedly "overwhelming" evidence that Trae was to blame for the accident, it was not unreasonable for the insurer to deny the claim, and the court should grant summary judgment in its favor.
Again, despite the unfavorable evidence from the accident scene, the court ruled against the insurer and allowed Trae to go forward to trial. The law did not require that Trae demonstrate the unreasonableness of the insurance company's decision in order to be entitled to have his "day in court." He simply had to show that the reasonableness of the insurer's decision (concluding that Trae was mostly or totally at fault and therefore should have his claim denied) was something that was based upon factual disputes, which meant resolution through a trial instead of a summary judgment.
Trae achieved success because he did not simply give up and walk away from his case in the face of some unfavorable and potentially harmful facts working against him. If you're hurt in an auto accident, don't give up. Reach out to counsel instead. The skilled Louisiana motorcycle accident attorneys at the Cardone Law Firm have been giving our clients strong representation and personalized attention for many years and have been achieving beneficial results in a variety of circumstances.
For your confidential consultation, contact us online or phone Cardone at 504-522-3333.
More Blog Posts:
The Unfortunate Reality of Insurance & What It Can Potentially Mean for Car Accident Victims, Louisiana Injury Lawyers Blog, Feb. 28, 2018
What to Do After a Car Accident, Louisiana Injury Lawyers Blog, Dec. 23, 2017