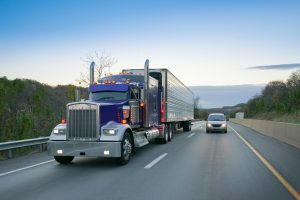 If you're a tractor-trailer truck driver, and you're involved in a serious accident caused by another driver, such as one that causes your rig to overturn, your legal case can many different aspects. Certainly, the driver of the car who lost control and hit your rig is potentially liable, so you may be able to sue the driver and his insurer for the driver's negligence.
That may not be enough. In Louisiana, the state minimum coverage requirements for auto insurance are quite low. For example, a driver is only required to have coverage that provides "payments of $15,000 for bodily injury to one person." That means that obtaining a full recovery main entail taking on multiple insurance companies, including the other driver's insurer, as well as separate underinsured/uninsured motorist (UIM) coverage insurers. To be sure you're getting everything you deserve out of your case, be sure you have an experienced Louisiana injury attorney on your side.
An example of a situation like this was the case of B.M.'s crash. B.M. was a commercial truck driver from Louisiana. One day, while driving a tractor-trailer across Calcasieu Parish in a heavy rainstorm, B.M. was in an accident. V.R. allegedly lost control of his Toyota sedan in the rain and slipped into B.M.'s lane. V.R. hit B.M. and the crash caused the 18-wheeler to overturn and also caused B.M. to suffer significant injuries.
Obviously, if you're a tractor-trailer driver and someone else's negligence causes your rig to overturn, it's very possible that your bodily injury harm will be well in excess of $15,000, meaning that you may have a need to pursue the at-fault driver's insurer and any UIM insurers. That is what B.M. did, suing V.R., V.R.'s insurer and the three companies that provided UIM coverage to B.M.'s employer.
Whenever you take on insurance companies, you can expect a well-defended opposition armed with sharp lawyers who will present many possible arguments. In B.M.'s case, the UIM insurers argued that Georgia law governed the resolution of B.M.'s case and that, under Georgia law, the employer had validly and legally waived UIM coverage. If that argument was correct, then the insurers would be not obliged to provide coverage and B.M. would be entitled to recover nothing from them.
B.M.'s legal team, however, was able to defeat that argument. He sought, and obtained, a partial summary judgment from the court that said that, because the accident happened in Louisiana and because B.M. was a Louisiana resident, Louisiana law was the standard for deciding coverage, not Georgia law.
Using the right legal techniques to achieve the end you seek
Motions for summary judgment can be very helpful techniques in your personal injury case. A successful one on liability, for example, can mean that the defendants you sued are legally declared liable and the only thing you have to prove at trial is just how extensive your damages were. Even just partial summary judgments, like what B.M. obtained, are still useful. Anything upon which you can obtain a summary judgment from the judge is one fewer thing upon which you have contest (and win) at trial.
In the end, achieving success is not just about knowing the facts and having evidence to back up those facts, but knowing what to do with them in terms of the law and the procedural processes. For the effective legal advice and advocacy you need, contact the Cardone Law Firm and our highly experienced Louisiana injury attorneys. We have many decades of experience handling a wide array of vehicle accidents cases, including commercial truck accidents.
For your confidential consultation contact us online or phone Cardone at 504-522-3333.