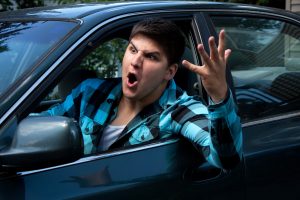 Road rage and aggressive driving are problems everywhere. When drivers give in to this urge, terribly bad things can (and often do) happen. The Pelican State has seen many road rage tragedies, including the deaths of two NFL players with New Orleans-area ties (Will Smith and Joe McKnight.)
This spring, the Louisiana Supreme Court will hear arguments in one of the more horrifying road-rage accidents of recent years. In the case, two drivers were allegedly engaged in a game of road-rage-motivated "cat and mouse" along westbound Interstate 10 near Baton Rouge. The encounter ended with the vehicles bumping into each other. One vehicle, a pickup truck, spun out of control, crossed a median and slammed into a sedan in the eastbound lanes. The sedan caught fire, killing a mother, her three young sons and the woman's teenage co-worker, The Advocate reported.
The matter currently before the Supreme Court relates to the pickup driver's criminal case. Previously, though, the horrible tragedy also triggered a civil case, with the families of the deceased eventually securing a judgment of $5.5 million. This may lead you to wonder… what can a civil suit do for me and my family if I've been hurt by a road rage driver? If successful, you may be entitled to a variety of forms of damages, including compensation for medical expenses, lost income, pain and suffering and, potentially, an award of punitive damages.
How do I prove I was hurt by a road rage driver?
There are lots of different driving behaviors that can amount to road rage. If you have evidence of one or more of these kinds of aggressive drivers, that proof may persuade the court that your injuries were the result of the defendant's road rage:
The lane blocker –- a driver who swerves, often in an inappropriately abrupt and dangerous way, to attempt to block you from passing
The tailgater –- a driver who expresses his anger by following you extremely closely, which is sometimes connected to…
The brake checker — a driver who perceives you as being too close behind him, and expresses his outrage by hitting his brakes quickly and abruptly, even though the road conditions do not indicate a need for braking
The gesturer –- a driver who displays his road rage by making threatening gestures like a throat slash or, more commonly, vulgar gestures like the middle finger
The lights and sounds driver –- a driver who uses his high-beam headlights and/or horn inappropriately, including turning on high beams while directly and closely behind you, or blaring the vehicle's horn for an excessively long time.
If you can secure video, eyewitness or other proof of your defendant engaging in these or similar actions, you may have a viable opportunity to persuade your jury that your case was more than just ordinary negligence.
What is my road rage injury case 'worth'?
If you have proof that you racked up medical bills or lost time on the job, you may be entitled to awards for medical expense damages and lost income damages. Additionally, you may be entitled to receive compensation for the pain and suffering you've endured, just as you would with other types of negligence-based auto accident injuries.
If, however, the evidence in your case shows that the driver's conduct meets Louisiana's standard for an "extreme" bad act, then you may be able to receive an award of punitive damages. That amount would be in addition to the other damages awarded to you by the jury. As an example, the jury verdict in the case arising from the crash that killed those five people on I-10 near Baton Rouge included an award of punitive damages on top of other awards like pain and suffering damages and funeral expense damages.
Any time you are injured in a vehicle accident due to no fault of your own, you have the possibility of taking legal action and securing compensation. When that injury is the result of something more than just ordinary carelessness, such as is the case in a road-rage situation, you may be entitled to receive even greater compensation. To learn more about your options, contact the Cardone Law Firm and our experienced Louisiana car accident attorneys. We have many years of experience aiding drivers, passengers and pedestrians injured by others to get the help they need.
For your confidential consultation contact us online or phone Cardone Law Firm at 504-522-3333.