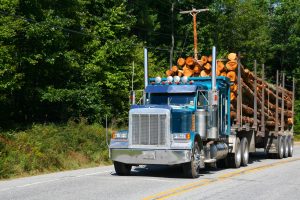 Louisiana boasts many vibrant industries, including oil, natural gas, commercial fishing and tourism. But do you know which industry is #2 in Louisiana? It's timber. Which such a large timber industry also comes some potential drawbacks, like roadways accidents involving log-hauling trucks. These loads are often extremely heavy and, if a crash happens, the consequences are frequently severe.
If you've been injured in an accident with a log truck, it's very possible that you suffered substantial harm, including a mountain of medical bills, an extended time off work and a lot of pain and suffering. To make sure what you get what you deserve in a civil lawsuit, be sure you act swiftly to retain an experienced Louisiana accident attorney to represent you every step of the way.
A recent accident reported by the Shreveport Times was just the latest reminder of how dangerous log truck accidents can be. A Shreveport-area woman was traveling eastbound when the driver of a log truck and trailer turned, pulling his vehicle onto the road near the top of a hill and in front of the woman. The woman was unable to stop and crashed into the rear of the trailer. The 29-year-old driver died at the scene. Her nine and five-year-old children, who were passengers, were not severely injured.
If you've been hurt in a crash involving a log truck, it is important to be aware that there are several steps to the process of pursuing recovery. These start with getting knowledgeable Louisiana counsel to represent you. Louisiana's laws when it comes to log truck accidents differ in some important ways from the laws of other states, so having someone who is extremely well-versed in Louisiana law and highly experienced in injury accident cases involving log trucks is vital.
There are several ways that you and your legal team can go about proving that the log truck driver who hit you was responsible. These include proving things like:
A violation of Louisiana's regulations for log trucks
A failure to meet the required standard of care
A failure to keep the truck and/or trailer properly maintained
Louisiana has some very specific regulations regarding the transportation of timber in this state. This includes things like limiting the hours log trucks can operate, requiring some log trucks to display red flags in the rear, limiting the maximum load and limiting the maximum distance a load may extend from the rear of the truck. Proving that the driver who hit and injured you violated one of more of these elements of the Louisiana Highway Regulatory Act may be enough to get you a favorable result in your lawsuit on the issue of liability, based upon a legal theory known as "negligence per se."
Log truck drivers are held to a higher standard in Louisiana
It's also important to keep in mind that Louisiana classifies log truck drivers as professionals. What does that mean for you? That means that they are required to driver at a higher level of care and safety than an ordinary driver. In a practical sense, that means you may need less evidence to hold a commercial truck driver hauling logs liable than if you were hit by a private SUV driver hauling mulch.
Louisiana also requires its log trucks to meet certain maintenance obligations. This is one area where engaging in the right kind of pre-trial discovery may be essential, as document evidence showing that the truck that hit you was not inspected and/or maintained in accordance with Louisiana's rules may go a long toward getting you a successful result in court.
What you can take from all of this is that your log truck accident case generally will require a wealth of evidence… evidence of the negligence or misconduct of the driver and/or transportation company, evidence of statutory violations, evidence of mechanical defects and evidence of all the different ways in which you were harmed, just to name a few. To be sure you have everything you need for — and get everything you should from — your log truck accident case, get in touch with the Cardone Law Firm and our highly skilled Louisiana injury attorneys. We have many decades of experience handling a wide array of vehicle accidents cases, including log truck injury accidents.
For your confidential consultation contact us online or phone Cardone at 504-522-3333.