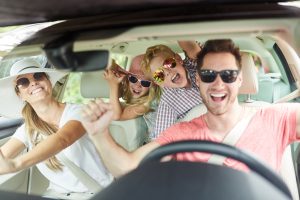 Summer is finally here and families all across Louisiana are eager to take advantage of the season. Whether you'll be traveling in state or across state lines to enjoy a little family vacation, you'll need to remember the importance of vehicle maintenance.
Having your vehicle breakdown on the highway while traveling – or on any other road for that matter – can lead to a disaster. Your New Orleans car accident attorneys at the Cardone Law Firm would like to remind you of a few important tips to keep your summer trip as safe as possible for you and your loved ones.     
Maintenance Checklist
1. Check Tires: In excessive heat, under or over inflation can lead to increased wear on your tires' tread. Additionally, attempting to take a road trip with worn tires can lead to a blowout, which can cause a catastrophic accident.
Make sure your tires have the right amount of pressure and that their tread is still in good condition.
2. Change Oil: It is recommended to check your vehicle's oil level at least once a month. Before summer vacation, it is highly recommended that you get your oil changed.
3. Check Battery: A quick routine inspection before a summer trip can ensure your battery is still working as it should. When inspecting your batter, keep an eye for any signs of corrosion which can affect its ability to power your vehicle. For added safety, wear rubber gloves and eye protection.
4. Check Coolant: In the summer heat, your vehicle's radiator will work hard to keep the engine cool. You'll want to make sure you have enough antifreeze in your vehicle's cooling system to keep your vehicle from overheating.
5. Check Brakes: Alongside your tires, your brakes play a pivotal role in keeping you safe when traveling. Before you take a trip, make sure to get your brakes properly inspected and changed if necessary.  
6. Check Air Condition: Being without A/C during the summer can make for an uncomfortable trip. Inspect your vehicle's air conditioning system beforehand. Ask a professional to run diagnostic tests and find a solution if there are any problems.
7. Check Wipers: Summer rains can come quick and heavy. If your wipers are streaking, then you'll want to change them out in case you are traveling and face a severe storm.    
Driving Tips
1. Everyone in the car needs to use a seatbelt.
Regardless of how close or far your destination is, buckling up is the best way to keep yourself and your family safe. Seatbelts truly save lives and can make all the difference if you happen to get involved in an accident.
2. Never use your cell phone or another electronic device while driving.
NEVER text or talk on your phone while behind the wheel. Hundreds of fatal accidents occur as a result of negligent, inattentive drivers.
3. Never drink and drive.
If you are making pit stops during your travels and drinking alcoholic beverages, your best move is to have a sober driver take over. Drunk driving can lead to a serious accident. Remember to drive sober and drug-free at all times.
4. Driving defensively but aggressively.
Defensive driving means always being aware of the other drivers on the road with you and driving in a way in which you can expect the unexpected.
5. Drive safely near 18-wheelers.
Always keep a safe distance from large commercial trucks and avoid slipping into their blind spots.
6. Plan your road trip ahead of time and take your time.
A summer vacation is just that. You shouldn't feel rushed to get to your destination. Take as many stops as necessary and enjoy the drive. If you need to make a text or call, use a rest stop.  
 In some cases, however, plans fail and don't go accordingly. If you are involved in an accident, remember the following guidelines:
Call the local police and EMS if necessary.

If you and your family are safe, exchange contact and insurance information with the other driver(s).

Use your mobile phone to take photos of the surroundings including street signs, location, weather conditions, and damages to the vehicles.  

Speak with witnesses and get statements including names and contact information

Try to remember how the crash occurred and write it down.

Get the police report as soon as possible.
Stay safe this summer with these driving tips from the Cardone Law Firm.
While you will do everything you can to keep your family protected, sadly, others on the road may not do the same. At the Cardone Law Firm, we are passionate about protecting drivers, which includes representing victims after a car crash. If you are involved in an accident this summer, do not hesitate to contact us at 504-522-3333.