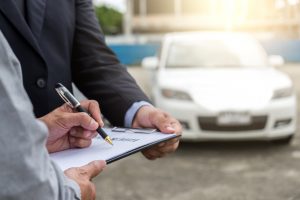 Auto accidents that cause injuries happen every day around Louisiana. With many of kinds of injury accidents, and auto accident lawsuits, there's a common thread to them: insurance. In many accidents, getting a full and fair recovery (or, at least, a fuller and fairer recovery than you often could obtain from the defendant driver him/herself) is predicated on your ability to hold an insurance company legally responsible for paying. Insurers, of course, often seek to avoid paying claims in certain circumstances. To that end, insurers will often fight aggressively to avoid assuming responsibility for an accident and paying claims based upon it. That is one reason, among numerous others, why you need diligent and determined Louisiana injury counsel, who can fight effectively for you to get the payment you deserve.
Here's an example from a case decision recently announced by the appeals court: B.M. and C.W. were involved in an auto accident on Feb. 27, 2016. The other driver, who was behind the wheel of a Lincoln Town Car, was at fault in the accident and the accident caused B.M. and C.W. to suffer damages, so they sued.
The insurance company that had insured the car disputed coverage and refused to pay. The insurance company claimed that the individual with whom it had a policy had sold the Lincoln prior to the accident and that several legally recognized coverage defenses gave it the right to decline to provide coverage.
In some cases, that might have been true. However, B.M. and C.W.'s legal team found out that this case was not so clear-cut. In this case, the insurer engaged in conduct (or inaction) that the law views as a waiver (or forfeiture) of the insurer's right to assert those coverage defenses upon which it was relying. Specifically, the court ruled that the insurer found out on Feb. 29 that the insured had allegedly sold the Lincoln on Feb. 26, the day before the crash. The insurer deleted the car from the policy, but did not backdate the deletion and did not provide the insured man with a refund of the premiums he paid for coverage from Feb. 26 to Feb. 29. By failing to backdate the deletion of the car from the policy and failing to provide any policy premiums refunds, the insurer's conduct amounted to a legal waiver and forfeiture of the right to assert the policy defenses it needed in order to avoid owing coverage.
In this case, B.M. and C.W.'s ability to find the necessary information, dig down into that information, and discover small, but very important, factual details proved extremely beneficial in winning their case. What you may take from all of that is that fighting the auto insurance companies requires skill, determination and knowledge. For all your legal needs after your auto accident, trust Cardone Law Firm and our experienced Louisiana injury attorneys to help you get the positive results you need.
For your confidential consultation contact us online or phone Cardone at 504-522-3333.
More Blog Posts:
Which insurance company should I go through to have my property damage repaired? The pros and cons explained., Louisiana Injury Lawyers Blog, Nov. 30, 2018
Pursuing Insurance Companies to Get Compensation Following an Auto Accident in Louisiana, Louisiana Injury Lawyers Blog, Oct. 14, 2018