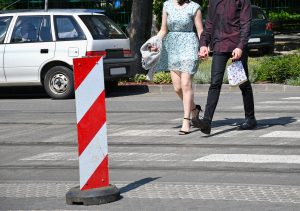 Many of us know the dangers of traveling streets or roads as a pedestrian. Pedestrians can be easily overlooked and, if struck, have the least amount of protection. However, one does not need to be walking on a major road to be in danger of harm while on foot. Even a trip to the local home improvement store can carry these risks. Whether your accident was along a major road or happened inside a store parking lot, it is important to be sure you know how to get all the information and assess all the facts. Sometimes, you may find that there are more people and/or entities who are liable to you than otherwise might have believed. To get the clearest picture of all of your options in the legal system, reach out to a skilled Louisiana injury attorney right away.
Take, for instance, the case of B.M. B.M. was a man who was visiting an Alexandria big-box home improvement store in October 2015. As B.M. exited the store, another customer, L.C., backed up and struck B.M. with his Chevy Silverado pickup truck.
Now, if you were injured in an accident like this, you might be able to recognize that you possibly have a case against L.C. and his auto insurer. However, B.M. and his legal team went further and found information that allowed them to bring a claim against another defendant: the store. According to the injured man, a store employee signaled to L.C. that he was blocking the path of a store forklift and that L.C. should back up his truck to clear a path for the forklift. Another employee, who was a flagger, had her back to L.C. and his truck during the incident, and allegedly provided no assistance at all.
Legal duty and legal causation: what they mean to your case
For that, B.M. sued the store for negligence. In order to have a claim against an entity like the store in this case, you need to establish that the store had something called a legal "duty" that it did not fulfill. If a person or entity has no legal duty toward you, then the laws says that they cannot possibly owe you damages for negligence.
The appeals court in B.M.'s case decided that the store did have a duty. In fact, the store had two duties that it potentially breached. First, when the forklift driver gestured to L.C. that he needed to back up, a reasonable jury could conclude that he failed to exercise appropriate care by failing to signal to L.C. to wait until the pedestrian had exited the area. Additionally, the lack of guidance that the forklift driver and the flagger provided to L.C. in his backing up, after a store employee requesting that he do so, could amount to "a failure to exercise reasonable care."
Another thing that your case must have is legal causation. If the law says that a particular defendant cannot possibly be considered the underlying cause of an injury accident, then that defendant doesn't owe damages. There are actually multiple different ways of showing causation. One is often called "but for" causation, because it relies upon an argument to the court that, "but for the actions of this defendant, the accident never would have happened and no injury would have occurred." That was the argument B.M. used against the store. He argued that the store was a cause of the accident because, but for the actions of the forklift driver and/or the inaction of the flagger and forklift driver, the collision would not have happened and B.M. would have suffered no injuries.
That, according to the appeals court, was sufficient and B.M. was entitled to go to trial against the store, as well as the pickup truck driver.
What this tells us is that there very often is more than meets the eye when it comes to your accident case. That's why you need the trained eye of an experienced attorney. Call upon the Cardone Law Firm to find out more about how our diligent and well-versed Louisiana injury lawyers can help you.
For your confidential consultation contact us online or phone Cardone at 504-522-3333.
More Blog Posts:
Pedestrian Hit and Run Accident at Lakeside Mall – What are the Pedestrian's Rights?, Louisiana Injury Lawyers Blog, Dec. 22, 2017
The Privileges of Pedestrians & The Duty to Yield to Their Right of Way, Louisiana Injury Lawyers Blog, June 28, 2017