Suffering injuries in a trip-and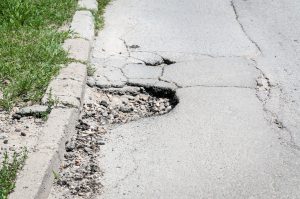 -fall or slip-and-fall accident can be painful, both physically and emotionally. If you've suffered harm due to a hazardous condition on someone else's property, you may be entitled to recover damages. In many of these situations, the property owner will try to defeat your lawsuit by arguing that the hazard that felled you was "open and obvious." A recent Louisiana Court of Appeal ruling in favor of an injured woman further clarified when a hazard can (and cannot) be open and obvious. When it comes to these and other areas of the law that can often be very nuanced, it helps to have an experienced Louisiana premises liability attorney on your side.
The dispute that spawned the recent Court of Appeal opinion was a premises liability case pitting two sets of New Orleans neighbors against each other. Carol was walking her dog at around 10:15 pm
Carol and her husband sued their neighbors in a premises liability lawsuit. The neighbors asked the court to award a summary judgment in their favor, which would have ended Carol's case before trial. The neighbors argued that they weren't liable because the broken concrete was an open and obvious condition, which meant that Carol was legally responsible for avoiding it. Carol, in opposing the neighbors' request, pointed out that she fell at 10:15 pm and that the broken concrete was not open or obvious in the dark. In addition to being well after sunset, the area of broken concrete was near a large vehicle in the neighbors' driveway that cast a shadow over the area.
Louisiana law is clear that, in order for a hazard to be considered legally "open and obvious," such that it would allow a property owner to avoid fault in a premises liability case, the dangerous condition must be open and obvious to "everyone who may potentially encounter it."
On that basis, the appeals court ruled in favor of Carol. The key was visibility. The court directly stated that a hazard "must be visible" in order for it to qualify as an open and obvious condition. Although Carol did not have evidence explicitly stating that the broken concrete was not visible, she did have proof that it was well after sunset when she fell and that a large vehicle cast a shadow over the area of broken concrete. The neighbors had nothing to prove that the area was visible, so the visibility of the accident area was an ongoing item of factual dispute, which meant that Carol's case should proceed to trial.
Carol was able to go forward because her legal team persuaded the courts that the neighbors weren't entitled to summary judgment. Sometimes, achieving a successful result in a personal injury case can mean having to clear many hurdles. If you or a loved one has been hurt in a trip-and-fall or slip-and-fall accident, contact the hardworking and skilled Louisiana premises liability attorneys at the Cardone Law Firm. Our knowledgeable lawyers have spent many years fighting for injured people and are here to go to work for you.
For your confidential consultation, contact us online or phone Cardone at 504-522-3333.
More Blog Posts:
Pursuing a Premises Liability Case Against a Public Entity in Louisiana, Louisiana Injury Lawyers Blog, Jan. 22, 2016
'Open and Obvious' Hazards and Premises Liability Cases in Louisiana, Louisiana Injury Lawyers Blog, June 29, 2015